"For I was hungry and you gave me something to eat, I was thirsty and you gave me something to drink, I was a stranger and you invited me in."
Matthew 25:35
For Updated Pantry Information please check us out on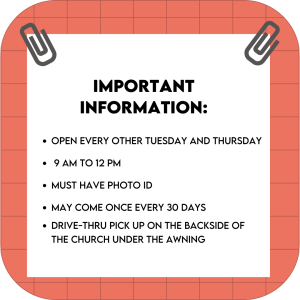 We need:
Mac-n-cheese
Canned Vegetables
Bread
Canned Meats
Juice
Breakfast Items
Toiletries
Laundry Detergent
Dish Soap
Plastic/Paper Bags
OR You can ADOPT-A-BAG for $15 a month. Simply give $15 to provide ONE BAG of GROCERIES for a FAMILY EACH MONTH!!!
If you would like to donate or help out as a volunteer, please call the church office – 903-561-5703
Please drop off your donations on Sunday mornings or in the church office Monday-Thursday from 9-5.